Kitesurfing Private lessons in Tarifa
Kitesurfing private courses are ideal to learn without wasting time and maximizing your progress.
It's the best way to guarantee you get the maximum attention from the instructor, learning faster than in group courses.
Private courses have 1 student and 1 instructor. The student has the kite at all times from the beginning of the class. This way every mistake is taken care of immediately because the instructor doesn't have to pay attention to anybody else.
Kiteobsession guarantees that the instructors with the most experience will be teaching the private and semiprivate courses.
This course can be for beginners with cero experience or for advanced students.
The kitesurfing private course is the best option if you:
-Would like to learn from the beginning without wasting any time.
-Are taking a group lesson and would like to progress more.
-Have done a kitesurfing course some time ago and would like to continue with your progress (refresh).
-Already know how to kitesurf but would like to improve your technique.
-Are already riding but would like to learn a new discipline or new tricks with strapless kitesurfing, freestyle, hydrofoil…
These kitesurfing lessons are bespoken and designed around each student's preferences. They usually go for 2 hours per day, but we can also adapt to doing 3 or even 4 hours daily, depending on your availability.
You can start with cero experience on a private course. The progression will always cover the following stages:
1- Practice on land
2- In the water without the board
3- In the water with the board
4- Starting to ride…
The biggest difference is that your progress will be much faster than with any other type of course.
If you've already done a course some time ago and you would like to continue with your kitesurfing lessons, the private course is ideal because we can adapt to what you already know, refreshing what you've forgotten and progressing from where you left, without wasting any time.
It is also ideal for whoever needs confidence, going over things in detail and wanting to feel safe and in control.
Kitesurfing private courses are also ideal for advanced students.
· Going upwind.
· First jumps.
· Advanced jumps.
· Freestyle.
· Surfkite.
· Strapless.
· Hydrofoil.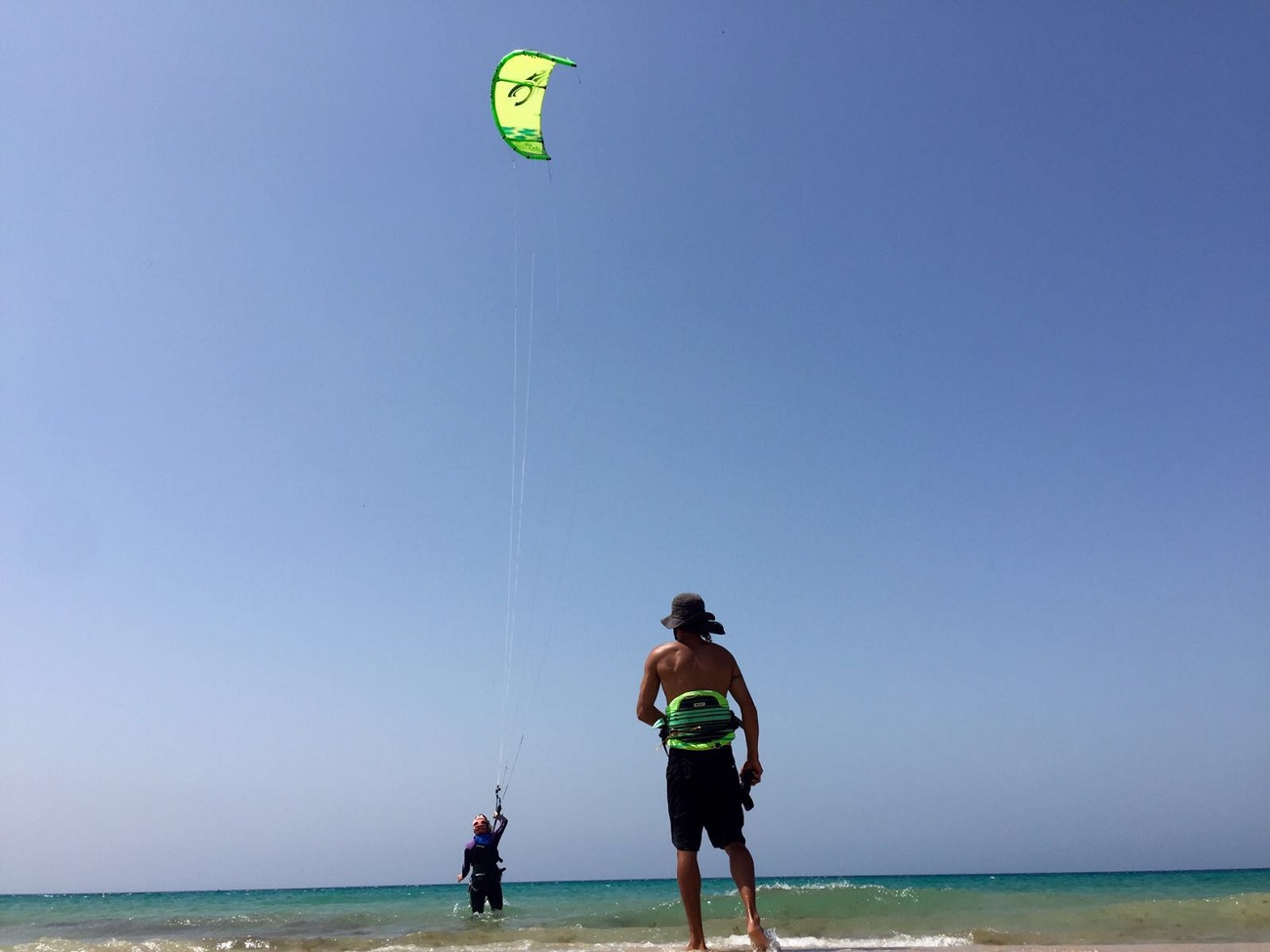 The instructor will be by your side the whole time and will use waterproof radio-helmets.
If you are starting from cero you might ask yourself… How many days will it take me to learn how to ride? This depends on each person. There are students that can achieve this in 2 or 3 days and others will need 5 or 6… Either way, with the private course you will save hours and days of training because you will learn in less time.
When you finish your course, if you'd like we can give you a certificate of the level achieved in accordance with the IKO (International Kiteboarding Organization) which will allow you to continue your course at another spot or to rent equipment if you have made it to that level.
All kitesurfing gear is included in the course.
We supply the full equipment: wetsuit, harness, floatation vest, and the kitesurfing equipment, kite, control barr and board of the highest quality brands like Cabrinha, Naish, Brunotti and O'Neill.
Radio helmets so you can always listen to your instructor even when you're in the water.
We also have all the insurance and licenses needed to practice this activity in Tarifa.
We work with 3 rescue boats.
What do I need to bring to my kitesurfing course?
Comfortable clothes, sunglasses, sunscreen, a hat, lots of water or juice to drink during the class and above all lots of motivation and energy because you will sure enjoy it.
Enquiry Form
PRICES
2 hour Private Course 130€
3 hour Private Course 180€
Ask us about discounted pricing for multiple days.
Fill out the form and ask us about anything you need.
You can also send us a message through WhatsApp or call us on
+34 656 67 88 15